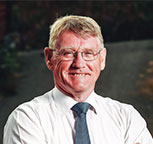 Sean Doyle BSc(Hons) CChem FRSC FFSSoc
Sean has over 40 years' experience as a forensic scientist and has given evidence in some of the highest profile trials in the jurisdictions of the UK, New Zealand and the EU for both the prosecution and defence. He has considerable research experience and expertise in the management and development of quality systems. He has served on a number of international bodies tasked with improving the quality of forensic science. He delivers lectures on forensic science, forensic practice and all aspects of the forensic investigation of explosives related crime to police investigators and students at both undergraduate and graduate level.
Career
Sean joined the Laboratory of the Government Chemist (LGC) in 1975 and after periods in Foods and Feeding-stuffs and Radiochemistry, where he developed a method for the sampling and analysis of aqueous tritium in air and a novel mathematical process for the indirect detection of beta-emitting radionuclides, he moved to the Questioned Documents (QD) section. After spending a period of six years in QD he left LGC in 1990 to join the Forensic Explosives Laboratory (FEL). FEL is now part of the Defence Science and Technology Laboratory (Dstl), an agency of the UK Ministry of Defence. After ten years' forensic casework experience, a period coinciding with intense terrorist activity in the UK, he was appointed Head of Forensic Chemistry and Research and in 2006 the Principal Scientist.
As FEL's Principal Scientist he was responsible for developing and implementing policy and strategy; establishing, developing and maintaining strategic relationships and ensuring FEL maintained its world-leading performance and reputation as a forensic science provider. Prior to his appointment as Principal Scientist, Sean was Head of Forensic Chemistry and Research, directing research and managing a team of scientists delivering FEL's research program, together with its laboratory and analytical services.
Therefore, in addition to almost 40 years' experience of forensic science casework, Sean has considerable expertise and a wealth of experience in scientific research, policy, strategy and the development and management of quality systems. Sean left Dstl in February 2010 and is currently a Director at Linked Forensic Consultants Limited and a consultant forensic scientist.
Professional Experience
From July to September 1998 Sean served as an expert member of a United Nations Special Commission (UNSCOM) weapons inspection team in Iraq and New York.
Sean maintains close links with the University of Kent and the University of Otago where, until recently, he lectured on forensic science at both under and postgraduate level. He also has links with the University of Strathclyde and King's College.
In addition to directing and managing research within FEL, Sean was also a member of the project board for 'Light it up'; a research project developing antibody functionalised nano-particles for detecting evidential materials on individuals and at crime scenes. The project was lead by Professor David Russell of the University of East Anglia and also included King's College London as project partners.
Sean is a founder member (2001) and Director of Quality of the Forensic Isotope Ratio Mass Spectrometry (FIRMS) Network. He is also a member of the Steering Group. FIRMS promotes the forensic application of IRMS and related techniques and regulates forensic practice.
Sean is a founder member (2004) and former Secretary of FINEX, the explosives Expert Working Group (EWG) of the European Network of Forensic Science Institutes (ENFSI). As Quality Project Group Leader he represented the EWG on the Quality and Competence Liaison Group of ENFSI's Quality and Competence Committee and led quality development within the EWG.
Sean was a member of the international study team that produced the report "Study on Obstacles to Co-operation and Information-sharing among Forensic Science Laboratories and other Relevant Bodies of Different Member States and between these and Counterparts in Third Countries" on behalf of the European Commission. This document provided the 'blueprint' for the development of forensic science provision within the EU. Sean drafted the chapter on Quality.
Click to download
As a representative of one of the Co-ordinating Laboratories, Sean was a joint author of the 2007 Interpol triennial review "Analysis and Detection of Explosives and Explosives Residues, A Review: 2004 to 2007".
Click to download
From 2003 to 2009 Sean served as a director of the UK based regulatory body, the Council for the Registration of Forensic Practitioners (CRFP). The CRFP maintained an indicative register of competent practitioners. The CRFP's main aim was to promote public confidence in forensic science. Sean was also a Registered Forensic Practitioner and an assessor with the CRFP. The CRFP was closed by the UK Government in March 2009.
Sean represented the Forensic Explosives Laboratory on the board of the Association of Forensic Science Providers (AFSP); a group comprising the Forensic Science Service, LGC Forensics, Scottish Police Services Authority Forensic Services, Dstl Forensic Explosives Laboratory, Forensic Science Northern Ireland, Key Forensics, Orchid Cellmark and the Forensic Science Laboratory, Dublin. The AFSP, which began life as the UK Forensic Science Liaison Group, represents the majority of forensic science provision within the UK and Ireland and works with stakeholders on matters relating to quality. The principal aim of the AFSP is maintaining the highest standards in forensic science delivery. One of the most important outputs from this group has been a set of standards for evaluative opinion, published in Science & Justice; 49 (3) 2009 161-164.
Sean has also been involved in the planning, scientific management, and the delivery of numerous conferences over many years including, EAFS 2006, each of the seven FINEX annual meetings, ISADE 2007, and each of the four FIRMS conferences.
Sean has been an invited, keynote and plenary speaker at many scientific conferences, he has chaired many sessions and helped deliver a number of workshops. Invited presentations of particular note were: a keynote presentation to the first African Forensic Science Symposium held in Pretoria, South Africa, in October 2003; the Interpol International Forensic Science Symposium, Lyon, in October 2004 and October 2007; the 42nd IUPAC Congress, Glasgow, in August 2009; 'Enhancing the security of explosives: one and a half years of implementation of the EU Action Plan on Explosives', October 2009, in Djurönäset, Sweden and a plenary presentation to the 10th ISADE, September 2010, in Canberra.
Sean has published widely on forensic science matters. He has written three articles for the Newsletter for the NZ Criminal Bar Association 'Acquitalk' on the reliability of forensic science. He has also written chapter for the latest edition of 'Forensic Investigation of Explosions' Pub. Taylor Francis ed. A.Beveridge, a standard text. He has provided two chapters on explosives related crime in the latest edition of the Elsevier Encyclopedia of Forensic Sciences and has also contributed to 'Stable Isotope Forensics' Pub. Wiley-Blackwell by W.Maier-Augenstien, the first text book on the subject. He is a member of the editorial board of the journal of the Forensic Science Society, Science and Justice.
Sean was commissioned by the publisher Elsevier to write the first standard text on quality management in forensic science the book 'Quality Management in Forensic Science' was published in 2019 and is a guide to the scientific, legal, ethical and quality standards applying to the management and delivery of scientific evidence.
Quality Management
Sean is a Lloyd's Register of Quality Assurance trained auditor and has many years' experience of quality audit. He played a significant part in the development of FEL's ISO9001 and ISO/IEC17025 accredited quality management system and as Head of Forensic Chemistry and Research and latterly as Principal Scientist exercised the role of Method Owner. As Method Owner he was responsible for strategic oversight and directing the quality management of most of the analytical procedures and methods employed by FEL in the provision of its forensic services. Through his work, and many international associations, Sean has gained a deep understanding of quality systems and a detailed knowledge of ISO9001 and ISO/IEC17025. He is also has experience of ISO/IEC17020, ISO/IEC17024, ISO/IEC17043, ISO/IEC17034 and ISO Guide 34.